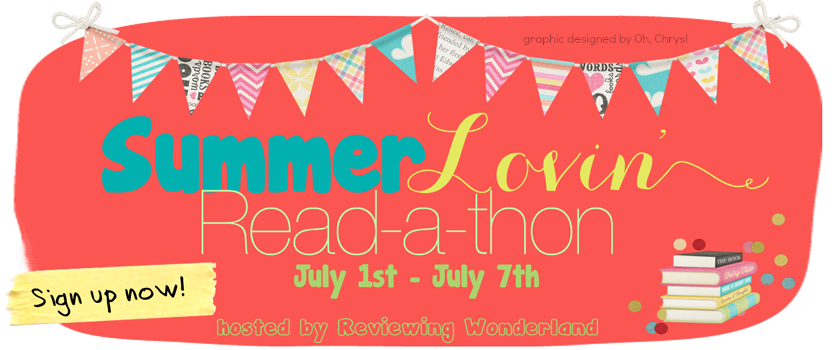 So it's day one of the Summer Lovin' Read-a-Thon and I'm raring to go. I'm not going to challenge myself to read a certain amount of books as I know that I wont end up reading them all and I'll end up disappointed with myself. Instead I'm going to read at my own pace and have some fun along the way! I'm not very good at keeping up to date with posts but I will make sure to complete the participation posts every day.
Todays post is class orientation, so I would like to introduce myself to you guys! Some of you who have been reading my blog for a while will already know who I am but it doesn't hurt to get to know one and other.
Hey everyone, I'm Annoushka and I'm blogging from the UK. I've always been in to reading but only in the past year have I become the avid reader that I am today. All my life I have been surrounded by a family that loves to read which I'm truly grateful for, as reading is now a big part of me. I decided to start this blog, as I wanted to share my thoughts on books and meet new people that have the same interests as me. Especially as none of my friends read so I don't have anyone to talk to about books I've read recently. I will be happy if I manage to finish at least one book this week so I think that will be my goal!
In June I finally completed my two-year college course and I'm now on the path of discovery, as I have no idea what I want to do next. I hope to pursue my dreams and become a photographer but its definitely going to be hard work getting into the industry. So for now I'll just keep doing what I love and hopefully I'll get recognised some day. I'm a Canon girl by the way!
Enough of the heavy, I'd like to share some of my favourite things with you guys.
Favourite Band: 30 Seconds To Mars or Stereophonics
Favourite TV Show: The Vampire Diaries (I'm team Damon, just so you know!)
Favourite Colour: Burgundy
Favourite Movie: The Lord of The Rings (All of them!)
Favourite Reading Genre: Anything YA
Favourite Book: Hm, this is a hard one but I think I'll have to go for The Fault in Our Stars by John Green. It's just so beautiful I could cry every time I think about it.
Favourite Food: Nothing beats a good old English chippy tea!
I dont know what else to put about myself, so I'd like to wish you all a lovely week and if you have an introduction post I'd love to read it too!